---
SSGT Henry Ullmer
---
Back L-R: 2LT Howard Burgoon (P), 2LT Tom Hunt (B), 2LT Cress (CP), 2LT David Wilmot (N) Front L-R: TSGT Ed Peckham (TT), SSGT Ashworth (WG), SSGT Aguair (BT), SGT Henry Ullmer (TG), SSGT Roland Jenkins (WG). Not pictured is SSGT McFarland (RO).
---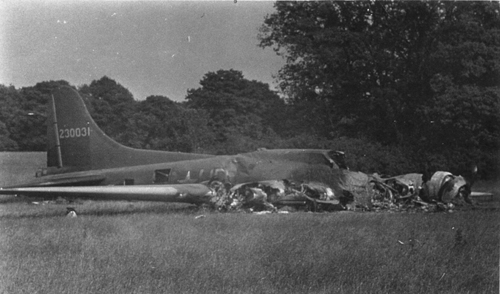 Photograph of 42-30031, SU*D, after being shot down on June 26, 1943 mission to Villacoublay, France.
---
Henry Ullmer, Prisoner of War (Kriegsgefangen).
Photos courtesy of Henry Ullmer