---
B-17G 42-102601
Crash landed in France September 10, 1944. Crew was:
P- 1st Lt. Joseph G. Hartness, Jr.
CP- 2nd Lt. Herbert H. Schaaf
N- 2nd Lt. Clarence C. Hightshoe
B- 2nd Lt. Maurice J. Simons
R- S/Sgt. Stanley T. Burek
TT- S/Sgt. Lester A. Walcott
BT- Sgt. Raymond O. Wisdahl
TG- Sgt. Delmar J. Beesley
WG- Sgt. Frank W. Rock
Entire crew returned to flight status on 13 Sept. 1944.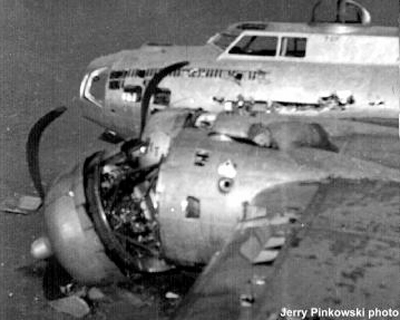 photographs courtesy of Scott Pinkowski.